97% Of Consumers Go Online To Find & Research Local Businesses
We offer affordable website design in Drogheda
Get More Customers
A website has shown to be a proven way to get more customers. With 78% of people searching for businesses on smartphones & tablets you can't afford not to have a responsive website. It also adds to your image.
Stand Out
If a customer searches for a local restaurant and your website pops up you stand a much better chance of converting that customer if they can see what you are offering. Don't let them find your competitors first.
You Update
We'll  show you how to update your website, so when it comes to making changes, it's FREE. You are in full control. This is great if you want to run monthly specials, it'll cost you nothing to make the changes.
If you don't have a fully responsive website these days it means that when potential customers find you on the web from a mobile device they have to pinch & zoom. Helps your site be current. Stay ahead of the competition.
GET DRONE FOOTAGE FOR YOUR BUSINESS
You see drone footage EVERYWHERE now, Do you have ANY?
Click Here
Call 087-1236789
BUSINESS TECH HELP
LOOKING FOR SOMETHING?
Everybody looks at Google! This is where your business will be found.
YOUR THE BEST?
Well then tell potential customers what you do, why you're the best.
SPECIAL OFFERS?
If your business has special offers from time to time tell people.
WHAT'S GOING ON?
We can give you a full report on your websites performance weekly or monthly.
SELLING ONLINE?
If you want to start selling online we'll make sure your site is secure.
YOU CAN UPLOAD!
No more paying a web designer to upload new content to your website.
Whatever your selling you NEED customers! The first place people look for goods/services is Google. Get your message out!
Whatever you'd like your new website to look like we'll work with you every step of the way to get it like that. It's very important to get the correct message across.
Who Should Have a Website?
The answer is....Everyone that has a business
Starting A Business?
As well as helping you get on the web, we can show you apps that will help you in your new business, including invoicing, cloud storage, logos, embedding video into your website and more. We can also help you with social media. Sell your products online? We can help with that also.
Just think of the amount of people right now on Google looking for different businesses! If you don't have a website they WON'T find YOU! It's very simple
Almost half of small businesses without websites say they don't need a website, but they really mean they don't want it enough.  There's a threshold where the want for something surpasses the pain(cost/complexity/time) of getting it.
I'd wager that 99.9% of small businesses claiming they don't need a website would change their mind if they could snap their fingers and have a fully built, maintenance free, zero cost, zero effort website. That's what we are here for.
We offer affordable website design in Drogheda.
"No matter what type of business you run, if you have customers, it's necessary to have some sort of information online, at least a page describing who you are and offering contact information. It's essential to have this information indexed and shown to those looking for you."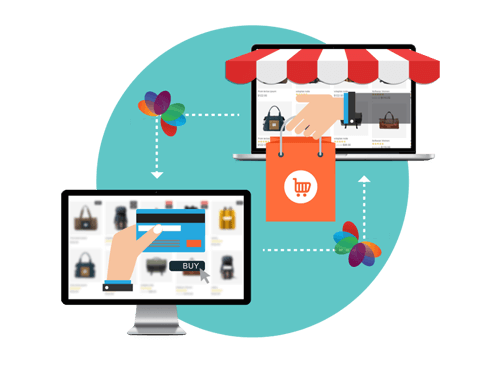 Sell Online
Have you products you could sell online? We offer affordable web design in Drogheda. Selling a product online allows you to reach a wider audience and new customers. Get online today. Call 0871236789 – 7 days a week.
We can add some depth to the images/video of your premises with footage from a drone. Click on the icon above to see exactly what we're talking about. Market your business into the 21st century. Things look more interesting from the sky.
Email
You'll want to look professional so we'll set you up with whatever business email addresses you want, sales@yourwebsite.com no more tom96@gmail.com – each member of staff can have their own email address, no more filtering emails.
Custom Logos
Need a logo? We can create a logo that matches your business. It's one of the hardest jobs to choose a logo for your new business, sometimes you just need a fresh idea. We also redesign logos for existing businesses. Maybe it's time to refresh.