BUSINESS PROMOTION  BY DRONE 
Aerial photography and videography is breathing new life into marketing campaigns. Businesses can showcase a different perspective or view of their work. Engineering firms can showcase structures from new angles, builders and contractors can give investors a unique view of commercial projects, and even farmers can get new insights on their crops, places of interests can show stunning aerial views of the area, property sales can showcase the property and be a game-changer for estate agents. The possibilities are endless.
Aerial Photography adds so much to your social media
Marketing –
Visitors to websites have come to expect an interactive experience, and it's up to you to deliver it. Plus if you look around at the competition, you'll probably find at least a few examples where video is being used effectively. If by some small stroke of luck you notice that your competitors haven't jumped on the video bandwagon, you've found yourself a great way to stand out from the crowd. With drone footage of your premises, you'll REALLY stand out. Have a look at these figures from eMarketer – Emails sent to potential customers with a link to a video resulted in:
55% increase in click-through rates

44% increase in the amount of time spent reading email

41% increase in the amount of sharing or forwarding of emails
PROMO VIDEOS
We make promo videos for small businesses as well, so if you're looking to promote something call us.
We've got you Covered
Whatever business you have using footage from a drone to promote it adds something different, the best photograph in the world can't compete with aerial photography. Drones were made for golf clubs.
It's amazing how good a place can look.
Key Ideas
Get drone footage of your golf club, it's the best marketing tool you'll ever have.
The view
Just think, you can capture your country house/hotel with the grounds in the photo as well.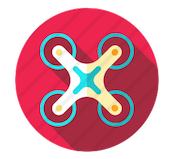 Social Media
It's been proven that people engage with video 75% more on a website. Think about it.
Engage
Whatever business you have using footage from a drone to promote it adds something different.
Drone Videography
Sometimes video is what you need to show off a project to it's best.
Drone Photography
The aerial photos from a drone are simply stunning.
We did this promo for County Louth Golf Club, Seapoint Golf Links & Laytown Bettystown Golf Links in conjunction with a number of hotels in the local area.
Why Aerial Footage Works
It's simple, it's different and it's exciting, photos are old school, this is the new medium for showing off your business. A drone will enhance your ability to engage your market in a fresh & valuable way, this is technology you need to incorporate into your marketing planning.
Who Would Use Aerial Footage
If you think about it aerial footage has a lot of uses and can be useful to a lot of different businesses, from a simple aerial photo of your premises to video footage of your whole site. If you have a gorgeous property (hotel/country house/entertainment facility) then video footage will do it justice. It's also fantastic for estate agents, companies looking for aerial inspections etc.
What Do I Get
This is up to you, we can take the footage and give you the raw files to use as you wish or we can do some post production work for you and get the footage ready for your website or your social media outlets.
How Long Will It Take
That all depends on what footage you want & of course the weather. In general we can get enough footage in half a day.
Looking for aerial photography?
A place can look amazing from the air, click on our "Example" tab to see some aerial photography photos. Business premises, house, land or just about anywhere you'd like photographed from the air call us.
65% More Engagement with Video
PROMO VIDEO
Every site has different aims, but one fairly universal way to grab visitors' attention and keep them there is through video. Combinations of moving image, audio and (sometimes) text – a short video presentation has everything going for it in terms of keeping people on your site.
Video is a fantastic tool to engage with new and existing visitors, and it is ultra-shareable on all sorts of social networking sites too.
But the main thing is it shows off what you have to offer.
Call Us Today 087-1236789
part of Business Tech Help